GDT Gets "Closure" for CRIMSON PEAK at EbertFest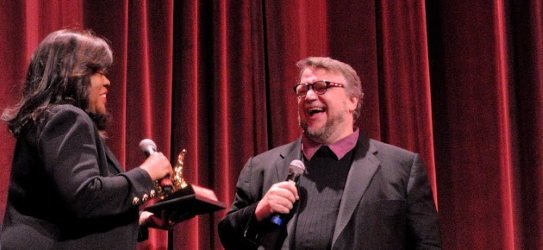 What a privilege it was to be at EbertFest to witness the redemption of CRIMSON PEAK.
CRIMSON PEAK was Guillermo's baby – carried for not 9 months, but 9 years – and despite being heralded by many as a triumph of visual storytelling by critics and fans, it was stillborn: a victim, perhaps, of a failed marketing strategy.
You wouldn't have guessed that the EbertFest crowd was watching a box office flop Wednesday night. Nestled in the vintage Virginia Theater in Champaign, Illinois, the gathered crowd was not there to see a "horror film", as it was labeled.  This was an intelligent audience of film lovers, there to appreciate CRIMSON PEAK on its true merits: as a gothic romance and an entry into the cannon of great, underappreciated films.
"Tonight was about closure with CRIMSON, because it was a movie I loved dearly that was sold as something it was not," said Guillermo in the post-screening Q&A. "It was sold as a horror movie and it wasn't and it sort of created a ridge between audience and movie and today, for me, is healing."
According to Box Office Mojo, CRIMSON PEAK, a film helmed by an Academy nominated director and starring big stars Tom Hiddleston and Jessica Chastain, brought in $13 million on opening weekend.  By comparison, WOMAN IN BLACK 2, with no star-power, pulled in $15 million on its opening weekend in January.
Granted, CRIMSON PEAK exceeded its $55 million production budget with a worldwide gross of around $75 million – but the damage was done on U.S. soil as poor word of mouth spread from disappointed film goers and the film was gone from theaters in just four weeks.
But this is what hurts Guillermo the most: he loves CRIMSON PEAK with all his heart. He believes it to be the most beautiful film he has ever made. And as more and more movie fans discover it on home video and praise it, he is left asking himself "what if?"
The marketing decisions for the film are a big question mark.  With big stars and a talented director, CRIMSON PEAK was originally earmarked for an April 2015 release. But at some point, the strategy changed. The studio decided to market the film as a horror film, and the release date was moved to October.
The result:  a disconnect between an audience expecting a gothic ghost story, and getting a gothic romance with a ghost in it.
The move proved disastrous as CRIMSON PEAK fought for an audience that opted for Jack Black's GOOSEBUMPS family scares over what was perceived by horror fans as a snooze-fest.
So that brings us back to the screening at EbertFest. Four months after CRIMSON PEAK left theaters, it found an audience so smart and wonderful that they gasped, jumped, melted and laughed at CRIMSON PEAK in all the right places. Yes, I said laughed. There is subtle, wonderful humor in CRIMSON – and I didn't know it was there until the wonderful EbertFest audience showed me.
It cheered the end credits and gave Guillermo a standing ovation as he came out for a Q&A that was peppered with wonderful insights about color, visual style and character – all the things that make CRIMSON PEAK so much more than a scary movie.
On this night, CRIMSON PEAK found redemption and love – and it brought closure for Guillermo, who was all smiles.  This is why he came to Champaign, Illinois, and it was worth the trip.
CRIMSON PEAK is a great film. And like all of Guillermo's movies, it stands on the shoulders of greatness that came before it.   His inspiration is fueled by the filmmakers and painters and writers that he loves and admires.  He hoards their contributions like a loving mother with way too many children – somehow he manages to get his arms around every one of them at once, holding them tight to his chest with love.  Now, Guillermo is part of that wonderful food chain. His work will be appreciated for years, and somewhere, an aspiring filmmaker is holding CRIMSON PEAK close to his or her chest, seeding a film that will blossom into something new and wonderful.
So, really, history is rewritten: CRIMSON PEAK was not stillborn. Never was. It exists. It lives on, and Guillermo is a proud father.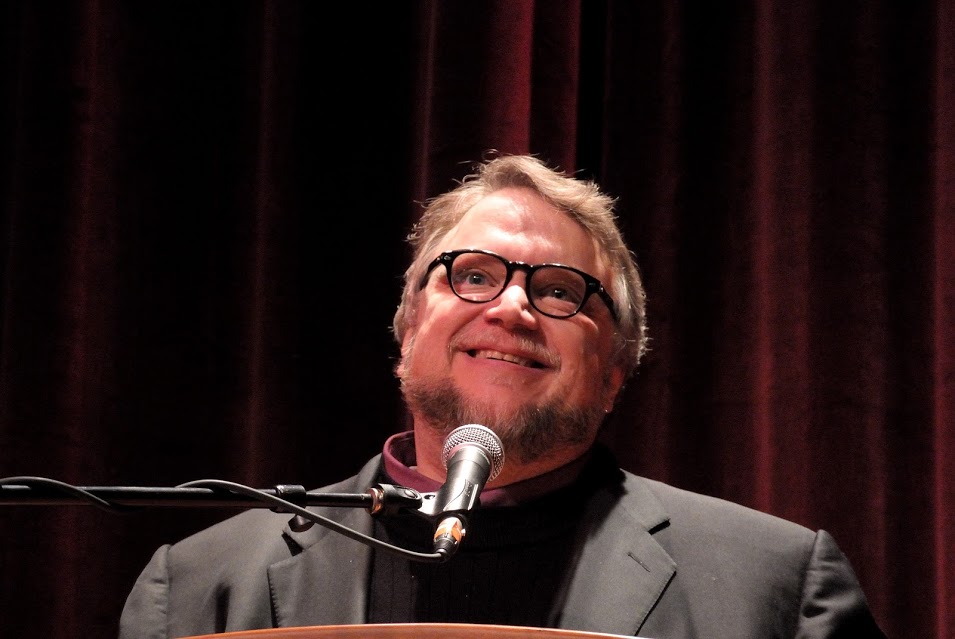 Watch the EbertFest CRIMSON PEAK Q&A below:

 EbertFest is the annual movie festival, started by Roger Ebert, and now run by Chaz Ebert, that is designed to build appreciation for "overlooked" films. It is held annually in Champaign, Illinois.