Well, we got some interesting news recently, didn't we?
GDT and David Eick (Battlestar Galactica) want to bring THE HULK back to television on ABC.
I've surveyed the landscape of Guillermo Del Toro fans, and I think for the most part, fans are excited about the prospect.  I believe they should be.  So allow me to share my thoughts on "Hulkamania":
First of all, the team looking to put this show together is like THE AVENGERS of television: Guillermo Del Toro, David Eick, Jeph Loeb (Smallville, Lost), and Joe Quesada (Marvel). With that pedigree, why would we not expect a take on THE HULK that isn't fresh, original and compelling?
GDT was not available for comment prior to writing this article – so the following is purely MY opinion on what I would like to see from the new show. First, let me outline the antagonists from the most recent HULK storylines in movie and TV:
Hulk vs Criminals (70′s TV show)
Hulk vs Daddy & Military(Ang Lee movie)
Hulk vs Military (Norton movie)
So far, the HULK story lines have been kept within the confines of reality.  What if this new take on THE HULK delved more into the realms of science fiction and horror?  That is the "bread and butter" for guys like GDT, Eick, Loeb and Quesada, isn't it?  I think what I am looking for in the new show is *strangeness*.  I was hooked on LOST, for example, because it was so *strange*.  I want to see THE HULK fighting gamma-mutated enemies, paranormal forces, and super-powered military henchman.  Can this be done on a television budget? Absolutely – they pulled if off on SMALLVILLE, and I don't think it has near the budget that THE HULK might have with ABC.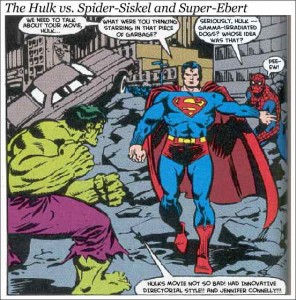 Also, let's talk for a moment about GDT's involvement.  Will this be "his" project? Yes and no.  He will help create the story arc and have some creative control – but I don't think his involvement will be at the level of, say Frank Darabont with THE WALKING DEAD, who is writing and directing some episodes and is a driving creative force. 
If we are lucky, we might see a pilot episode directed by El Maestro, or if we are REALLY fortunate, I could see a one-off episode scripted by GDT.  But it is not like he will have day-to-day creative control – that's for guys like Eick and Loeb.  GDT will be more like an executive producer, rather than a writer/director.
That said, THE HULK is still a project to keep an eye on.  What we might see here is a classic comic hero returning to television under the watchful eye of an All-Star creative team.
I just hope they bring the strangeness with them.