GdT signing at MIA this Sunday at 3:30pm * limited to 75 attendees **UPDATE Both Q&A and signing are SOLD OUT! Thank You.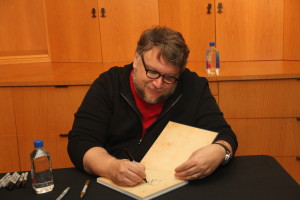 After his Creative Conversation, Guillermo del Toro will sign catalogs, tee-shirts, posters, books, dvds, Blu-rays, or any other merchandise related to his special exhibition, for a limited time in the Fountain Court outside the Pillsbury Auditorium. Merchandise to be signed must be purchased at The Store at Mia.
Space in line is guaranteed to My Mia members who pre-registered for the book signing and have a receipt for their in-store purchase stapled to their book signing ticket. Each registration allows one person one spot in line to get one item signed.*
Registration for the signing opens on March 2 at 10 am. You must be a My Mia member to register. Become a My Mia member online or by calling 612-870-3000. Membership is pay what you can–starting at free!
Capacity for the book signing is limited to 75 registrants. Check back here for a live registration link starting at 10AM on March 2.
*Please, no groups, unless each person in the group has registered for the signing in advance as a My Mia member, purchased an item from The Store to be signed, and has the required receipt, as detailed above.