Blade II on Blu Ray this Summer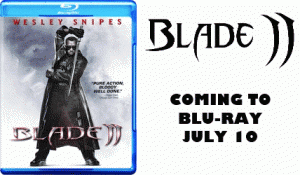 High-Def Digest has posted details on the new BLADE II Blu-ray, scheduled to release on July 10th!
The Blu-ray will feature 1080p video, a DTS-HD Master Audio 5.1 soundtrack, and along with all of the Special Edition DVD supplements the Blu-ray will also have the following exclusives: all-new commentary with Guillermo Del Toro, Director's Notebook, and Blade II: Blood Brothers featurette with writer David Goyer.
Suggested list price for the Blu-ray will be $19.98.
Ok, fans. Put it on your shipping list for July!