Watch Guillermo's Treehouse of Horror Couch Gag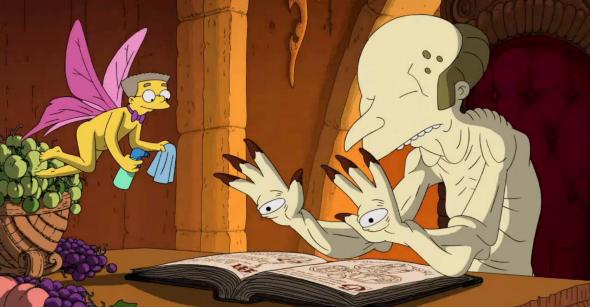 Tonight on Fox is the premiere of Guillermo Del Toro's "Couch Gag" sequence on The Simpsons' TREEHOUSE OF HORROR XXIV special. It is a chock-full of references to Guillermo's most favorite horror influences, as well as a humorous salute to his own projects.
Also, the gag was story boarded by artist Guy Davis (Dark Horse BPRD Comics, PACIFIC RIM creature designer).
Says Guillermo, "Guy is also -for those that know him- one hell of a funny guy!! We created this thing while in prepro of THE STRAIN and post of PAC RIM. It is SO full of gags that it will need repeated viewings"
But why wait for tonight? – watch it right now on YouTube!
How many references could you find?  For help, consult this "reference guide" video put together by some avid fans -

http://www.moviepilot.de/news/alle-filmreferenzen-in-guillermo-del-toros-simpsons-intro-125247
Did you find any they missed? Post them in the comments!