TROLLHUNTERS invade WonderCon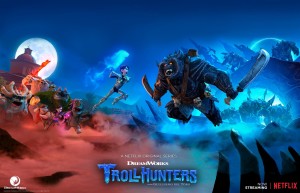 Today at WonderCon in Anaheim CA, DreamWorks Animation held a panel and signing to give fans an update and behind the scenes look at Season 2 of the award winning ,Emmy nominated Netflix series ,TROLLHUNTERS . In attendance were Executive Producer and Director,Rodrigo Blass, Executive Producer, Marc Guggenheim,Producer ,Chad Hammes,and Co-Excutive Producers and writers Dan and Kevin Hageman. They talked about world building and showed some side by side animatics .Something else was announced by creator Guillermo del Toro via prerecorded video message,there will be  TROLLHUNTERS Fan Art Contest!!! Four lucky contest  winners will have their fan art creations join the world of the TROLLHUNTERS!
After a Q&A, the panelists signed an exclusive poster for some lucky fans who won the opportunity via a lottery ticket giveaway earlier that morning.
Be on the look out for a line of  TROLLHUNTERS toys and SEASON 2 coming to NETFLIX soon!