Through the Maze: Notes & Rumors for 11/23
I was going through my notes and realized that I have a lot of items to cover this morning!  This is great – after two long slow years of waiting for THE HOBBIT to happen, it seems like there is an interesting news story coming out every day.  GDT's career is definitely in full swing, which is good for the loyal visitors to this website. 
I will admit, however, that keeping this website up to date was a whole lot easier before PAN'S LABYRINTH. 
Ok, so here is what I got for you today fans – Enjoy!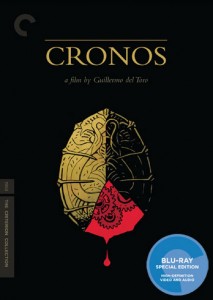 1. The CRONOS Criterion DVD becomes available December 7.  You can preorder it now from the Criterion website.  In addition to Guillermo saying that the film is the "most beautiful" it has ever looked, there are some cool special features to check out:
On camera interviews with GDT and Ron Perlman
Behind the scenes footage
Tour of "Bleak House", Guillermo's "man-cave"
Photo galleries and pre-production art
Commentaries from the original Lionsgate DVD
A re-edited version of GDT's short horror film, GEOMETRIA
2. On December 11th, Spike will air the 2010 Video Game Awards. Remember that announcements on THQ's Guillermo Del Toro video game trilogy is expected on this date
3.  Some of you have asked what Guillermo's role was with the recent Dreamworks feature, MEGAMIND.  Fangoria got the answer in a recent interview:
"I came in at the very end when they were shaping up that movie, advised them on reorganizing some of the editing and came up with ideas for a couple of little bits. I was really taken by how great and collaborative the spirit was in reshaping the movie a little. I had a blast. I've really longed to be able to do animated films, both as producer and director, because it's an area where you have control over texture and color and shape in a way you don't get in any other medium."
4.  A lot has been said about the online rumors that GDT wants Tom Cruise as the lead in his planned AT THE MOUNTAINS OF MADNESS movie.  IndieWire reported a rumor today that GDT actually prefers James McAvoy, although it does not identify a source for the story. 
5. And now the BIG item that you might all be interested to hear- Fangoria also had this interesting quote from Guillermo regarding HELLBOY 3:
Will we be seeing a third in his HELLBOY series anytime in the forseeable future? Del Toro says that's up to Perlman, who has expressed reluctance to return in the heroic title role. "You know, seven-hour makeup sessions per day get a little rough," he laughs. "But there's a website called Den of Geek in the UK that started a petition to get Ron to do a third HELLBOY [you can see it here]. And I must say that we got thousands of signatures, and Ron was very moved. We had lunch the other day, and Ron said to me, 'You know, if you write it, I may do it.' We got a very strong 'maybe' from the man!"
You heard it people – Ron changed his answer to "maybe".  Your fandom does matter! Keep making your voices heard and maybe, just maybe, you'll see a new HELLBOY film in the future.
6.  And now for some humor – many of you may have seen the recent College Humor video making the rounds on the internet: If Other Director's Made THE SOCIAL NETWORK. Our pal Guillermo was parodied in the video. Very funny clip – check it out below.