SDCC Day #2: The Visionary and Film District Panels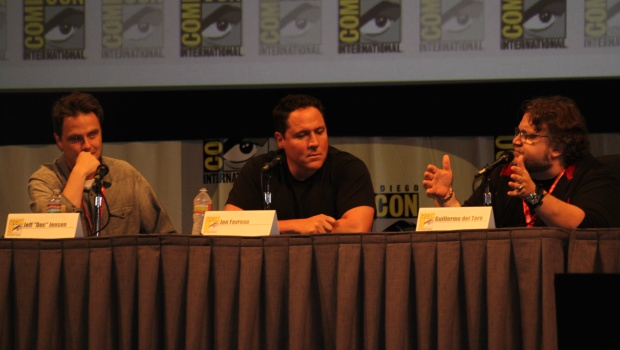 More news from  the San Diego Comic Con today, as Guillermo continues to make the rounds…
Film District Panel
Guillermo attended the Film District panel to promote DON'T BE AFRAID OF THE DARK.  Also in attendance was DARK director Troy Nixey and Guy Pearce, plus Nicolas Winding Refn to promote DRIVE. Here are some noteworthy quotes, thanks to LatinoReview.com:
Del Toro says Guy Pearce is "the f*****g man." 
Troy Nixey was determined to keep the creatures small, the studio wanted to make them bigger. "… those f*****s don't give the f**k up."
"It was an interesting step to take, the first film of this genre that I've delved into.  The thing that drew me to it was that he was so cynical and disbelieving of his daughter, which is representative of what a bad father he is.  A very domestic drama of a girl that has all sorts of issues, and my being all tied up with what I'm tied up with…it's an element of frustation for the audience." — Guy Pearce on being the unbelieving character of DBOTD
GDT, as per character, peppered his talk with his trademark salty language:
             Guy Pearce: "I just noticed that it said 'be aware your audience members may be under 18′"
             Del Toro: "They didn't know what the f**k they were getting into!
Also at the Film District panel was Ron Perlman, who is starring in DRIVE.  Naturally, the topic of HELLBOY 3 came up.  The Playlist snagged a quote:
"'Hellboy 2′ was tough. Both of us walked away from that a little bit, 'Do I ever want to revisit this?' But then with the luxury of time and looking at it in an objectified way…We were beat up at the end of it," Perlman said. "He always looked at it as a trilogy and there were things that were unresolved. So for us to not make it would be letting down people who invested in the first two. It's epic what he wants to do, but it would be cinematic and well worth doing."

And Del Toro echoes the sentiments of the franchise star. "Each of those moves has been an incredible ordeal to make. The third one is the hardest one because it's the darkest one…And if it's not Ron, I don't want to make it. The third one is epic, it's gigantic."
The Visionary Panel, with GDT and Jon Favreau
Entertainment Weekly has the scoop on the Visionary Panel, where two great filmmakers discuss genre filmmaking in Hollywood.  Some GDT quotes:
On their admiration for one another: "Often directors don't hang together because we're jealous a–holes," Del Toro noted. But the two spoke of their friendship that has developed over the last several years, with Favreau calling Del Toro "an inspiration and a mentor and someone to commiserate with."

Del Toro on his dream project, At the Mountains of Madness, an adaptation of a classic H.P. Lovecraft horror tale, which recently fell apart over budget concerns: "I hope [we can still make it]. I've been trying to do it for so many years. We were so close, and the incarnation we were going to do is so great, I don't want to give up. Fortunately, we control the property … so we can try to keep it alive. I hope I make it. It's one of those movies that's a Holy Grail for me."

Del Toro on his reputation as a filmmaker: "I don't think I'm a household name director. I think I'm an acquired taste. When I come here, it's fantastic, but I don't buy that illusion… I'm really a freak every place I go. I don't quite fit in the independent scene, I don't quite fit in the art scene, and I don't fit in the Hollywood scene. I'm a weird, strange, fat motherf—er, and I plan to stay that way."

Del Toro on his next directorial project, Pacific Rim: "It's the most fun I've had on a Hollywood movie ever. It almost should be illegal. We're designing monsters all day long. Gigantic f—ing monsters. All day long."