When GDT walked out for the Legendary Panel at the New York Comic Con, he told the audience that he had some bad news and some good news.
The bad news was that the studio didn't want him to re-show the footage he showed the audience at SDCC.
"The good news," he said, "is that I don't give a f—!"
One loud and joyous teaser later, the audience roared their approval with a standing ovation. PAC-RIM is going to be a hot ticket this summer.
Collider has provided some excellent coverage of the panel, which was attended by Guillermo and screenwriter Travis Beacham.  Read through that article for the details.
One highlight of note: A PAC-RIM graphic novel is in the works, a prequel that will explore a back-story that is referenced in the film.  Del Toro is actively involved in the comic (which will be put out by Legendary Comics), and Beacham mentioned that it serves as a "supplemental guide" to PACIFIC RIM.
In a report from About.com, Guillermo says:
"The idea was to set up the creation of the world that is in Pacific Rim…sort of give the stories and the drama and the science that occurs after the first kaiju makes land in 2013, and what happens when that occurrence is repeated over and over again until we realize that it's not a single occurrence or a series of occurrences, but a full-on invasion. And that we are going to need to [create] a weapon to deal with a creature that is that big and is not going in a straight line or a diagonal—hitting a target that is a living organism of a scale that has never been seen on Earth. We need to create an equally inventive way to grapple with the creature before it gets more inland. The ingenuity of the creation of Jaegers—the gigantic machines—that are pilot-controlled; the reaction of the kaiju attack; the creation of the academy; the first generation of Jaeger pilots that come out … all of that is set up in the movie, but is not expanded upon. The graphic novel will do that and more."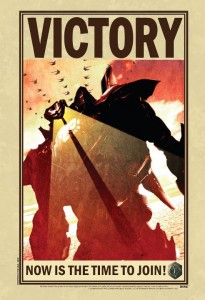 Also, an exclusive poster was released for NYCC, featuring a design by Raul Monge that emulates old World War II propoganda flyers.