PACIFIC RIM Invades San Diego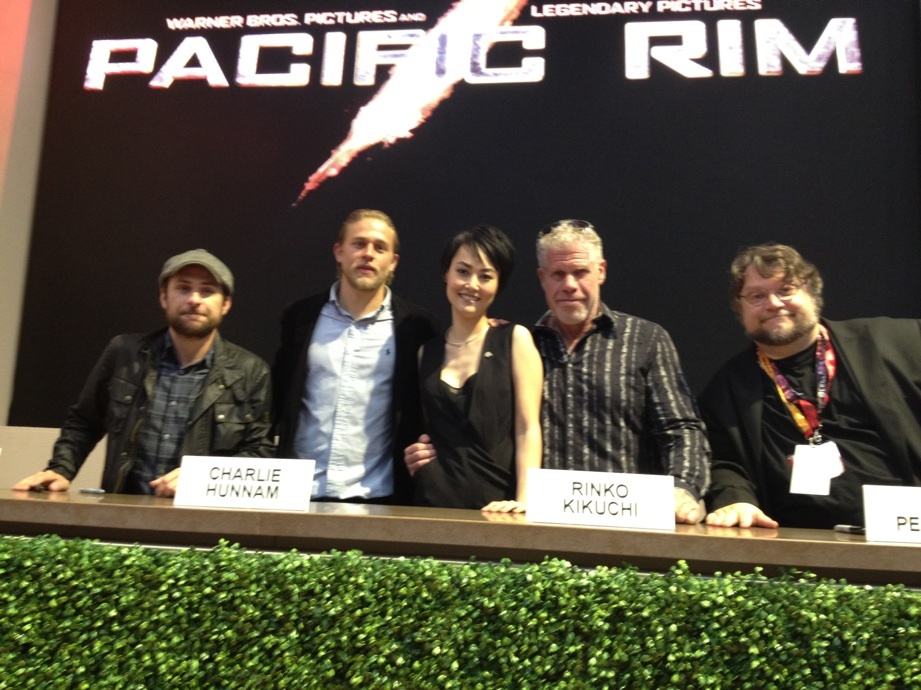 Like a monster from the sea, PACIFIC RIM waded out of the sea and crushed the fans of the San Diego Comic Con.
Judging from the internet reaction, the Warner Bros./Legendary Pictures presentation at Hall H on Saturday was a big success.  Fans and media were treated to clips of giant robots and monsters duking it out in an impressive media presentation.  The enthusiastic attendees took to twitter and blogs, sharing their reaction with fans not lucky enough to be among the capacity crowd.  Some of my favorite tweets from yesterday:
@slashfilm: Someone was crazy enough to gave Guillermo hundreds of millions of dollars to play with, and we're all invited to the toy box
@devincf: Literally choked up with awe and wonder and excitement from the PACIFIC RIM footage. Huge, thrilling
@firstshowing: Gigantic, I mean GIANT robots vs monsters, it looks so so so huge, so badass, holy sh*t wait until see you this stuff yourself.
I would venture to guess that Legendary has a big hit on their hands, and to include it with the likes of THE HOBBIT and SUPERMAN: MAN OF STEEL, which also presented, is saying big things about their expectations.
Here are some other quotes of interest, pulled from the online media reports:
With his Mexican accent, his eloquent profanity, and his ability to speak geek, del Toro talked of the creative process behind the movie, in which he combined his drive to make the film's destruction as real as possible, while also retaining heart.

"No f—ing motion capture," he exclaimed of his choice to eschew that technique to convey the Jaegers. "I don't want the robots moving like human beings. They need to move like a shock absorber and gears move."He also described how the production had the soundstages rigged so that sidewalks, cars, and streets actually crumbled and shook when filming monsters stalking cities.
There are around seven different robots in the movie, del Toro said, and nine monsters, or Kaiju. His team designed 40 different monsters, "and we did an American Idol on them. The better Kaiju are the ones in the movie.

"Everybody was a fan of monsters and robots," he added, "and we locked ourselves in adjacent rooms and played."

To make the creatures seem more real, del Toro is putting them in elements like rain and mud, and they'll each have different personalities and abilities. (Footage showed one shark-looking beastie getting a smackdown courtesy of a Jaeger.)

"Sea monsters, flying monsters — we have monsters out the wazoo," del Toro said.

"When you get a big budget, you can get crazy or lazy. And I got as crazy as I could. We used madness as our fuel to make this movie."
We also got a sneak peak into what Ron Perlman's character will be like in PACIFIC RIM – a black market dealer named "Hannibal Chow", specializing in delivering kaiju parts for consumption by the rich element of society (think of it like witch doctor medicine).  Sounds as if he and Charlie Day's character, Dr. New Gotlieb, will have some comic run-ins.
You can check out IGN's report on PACIFIC RIM below:
Also, here is an SDCC interview I found with GDT from ComicVineVideos:
Here is GDT talking about PACIFIC RIM to the Hollywood Reporter prior to SDCC:
PACIFIC RIM Pilot Suits
On the floor of the Comic Con, you could find the Jaeger pilot suit costumes.  The dark suit out front is suit you will see Charlie Hunnam wearing.  Each Jaeger is controlled by two pilots – one controlling the left side of the mech, and the other controlling the right.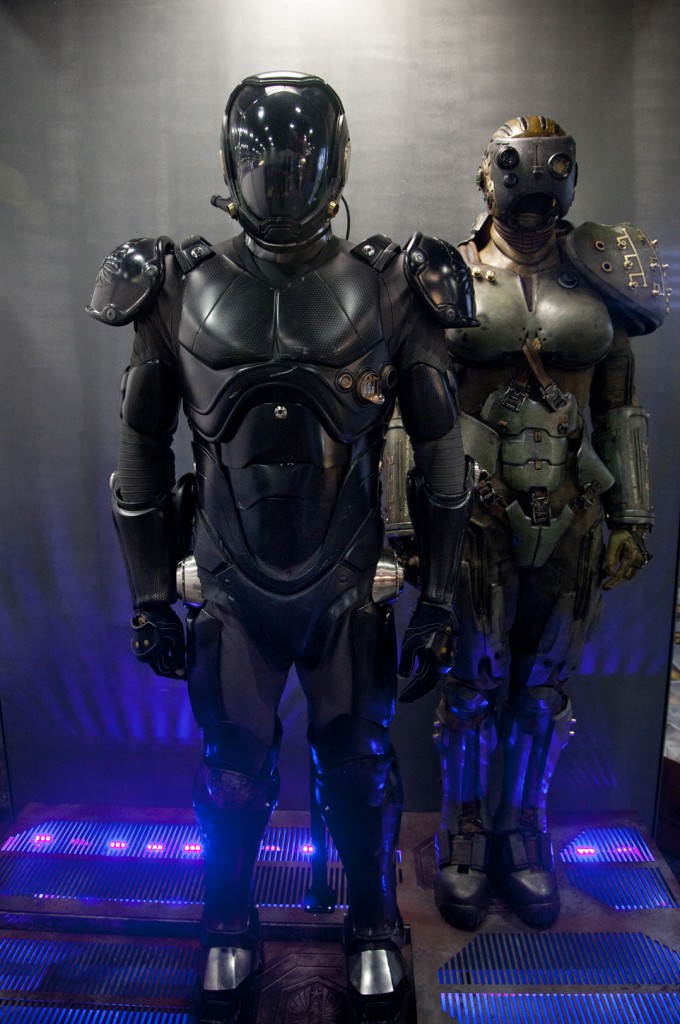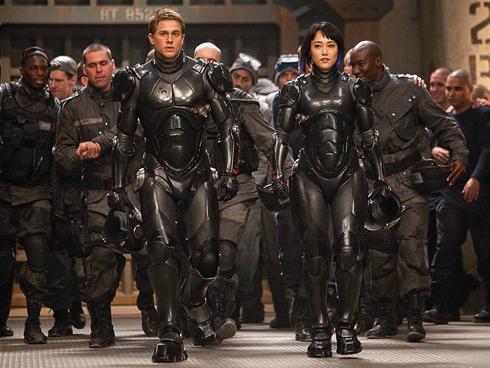 PACIFIC RIM Buttons
Also check out these cool PAC RIM buttons that were given away at the Warner Brothers booth.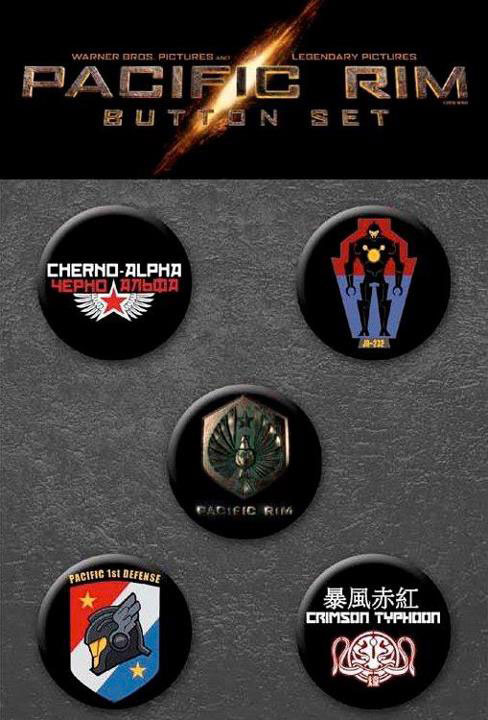 HELLBOY 3?
And in a surprise SDCC announcement, GDT and Ron Perlman said they would BOTH be up for HELLBOY 3 if they could get it financed.  The catalyst for this announcement was Ron's recent appearance as HELLBOY for the Make-A-Wish Foundation.  See GDT and Ron Perlman talking about the possible reunion on EW's site.