Our "No Strings" PINOCCHIO Report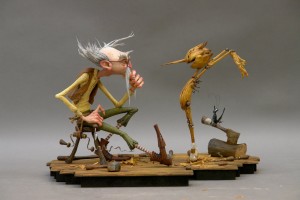 Deadline.com has posted some new details with the GDT/Gus Grimly/Jim Henson stop-motion PINOCCHIO project, something we have been aware of since November, 2008.
Here are some new things being reported:
The storyline is provided by Del Toro and his writing partner, Matthew Robbins. Robbins will also be writing the script.
Australian rock musician and composer Nick Cave has signed on as the music consultant
The 3D and Puppets will be handled by MacKinnon and Saunders, who also worked on THE CORPSE BRIDE and THE FANTASTIC MR. FOX.
Some key frame art was provided to Deadline by Del Toro (embedded in this post)
Apparently, this is still being shopped to the studios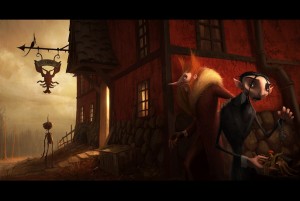 Also, Del Toro spoke of bringing to life some of the "darker" elements to the original 1882 Collodi story:
"the Blue Fairy is really a dead girl's spirit," del Toro said. "Pinocchio has strange moments of lucid dreaming bordering on hallucinations, with black rabbits. The sperm whale that swallows Pinocchio was actually a giant dogfish, which allows for more classical scale and design. The many mishaps Pinocchio goes through include several near-death close calls, a lot more harrowing moments. The key with this is not making any of it feel gratuitous, because the story is integrated with moments of comedy and beauty. He's one of the great characters, whose purity and innocence allows him to survive in this bleak landscape of robbers and thugs, emerging from the darkness with his soul intact."
If you want to learn EXACTLY how this project came about, read this great entry in Gus Grimly's blog.  One key excerpt:
In Guillermo's defense…don't worry about him taking on too many projects. He is not directing this film. He has mentioned to me plenty of times that he is wearing the producer hat on this project and will participate as much or little as I need him. When Pinocchio gets greenlit, Mark and I will go to Europe to direct it and Guillermo will work on his own projects (Haunted Mansion, Mountains of Madness…etc). Pinocchio is not waiting for anything and will go into production immediately. We are thinking this could happen this summer.
So there you go, fans. Lots to look forward to.