Notes and Rumors: HEAVEN SENT and more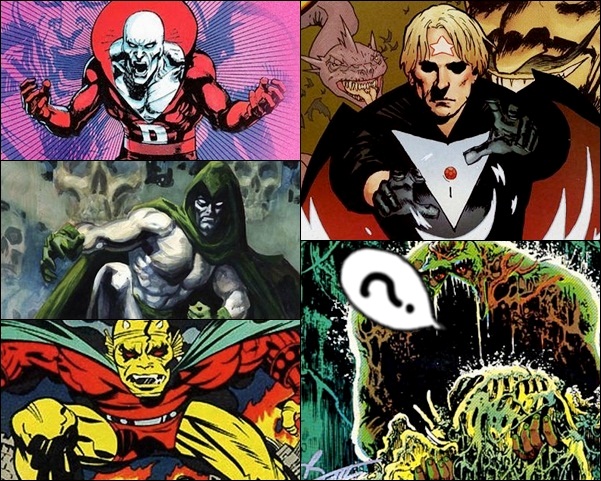 With PACIFIC RIM receiving plenty of positive buzz across the webby webs, it is only natural that speculation begins regarding Guillermo's next project.
The latest rumor involves GDT directing a "Justice League Dark" called HEAVEN SENT, featuring DC Comics' horror and magic characters – something that would be right up Guillermo's alley.
The super team would consist of Deadman, The Spectre, Swamp Thing, Constantine Hellblazer, Phantom Stranger, Zatanna, Zatara, and Sargon.  Initially, reports indicated Guillermo denied interest, but he set the record straight on our forums, saying that he would "love" to direct this film if the opportunity was there.
Still, do not discount Guillermo directing a more personal, smaller film right after PACIFIC RIM…..
Rise of the Guardians
RISE OF THE GUARDIANS had a disappointing reception at the box office on one of the biggest Thanksgiving weekends ever for the film industry.  It earned $32 million over the holiday weekend.  With a pricetag of around $145 million, this could be one of the worst performing films in Dreamworks history.
Still, Guillermo is keeping a positive outlook, and hopes that it could pick up steam over the holiday season by solid word of mouth, and stands by the quality of the film:
Box office was disappointing but exit polls and Cinemascore proved that audiences gave us a straight "A" and through the testing process we were the highest tested film in DWA history. Obviously we need to change our ad strategy but Holiday movies tend to hold through the season.

I love our movie!
inSane Returns?
Guillermo's horror video game project, dropped by struggling THQ back in August, is apparently rising again at another developer.  GDT told IGN:
We were going to go to a lot of developers after THQ, but it seems like we're going to be developing it after the first meeting we had. I can't disclose where it was, but we went to a great developer on the first meeting and it seems that they're picking it up because they love the package.
No Jaeger Sneak Peak…yet
Also, speculation was rampant that Guillermo's production studio, Mirada, leaked a sneak peak of a Jaeger in a promotional video.  Sorry, fans – that was not a Jaeger, but check out this comment that GDT posted on our forums:
Days away from the first steps on PR!!

G
Guillermo promised the first PAC RIM footage is coming in mid-December.  Fingers crossed that we get to see a teaser in theaters soon.