KFP2 and Puss in Boots Get Oscar Noms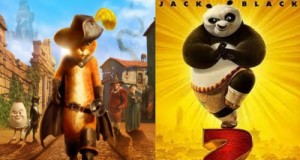 Dreamworks animation have two films in the running for "Best Animated Film" for this year's Academy Awards: KUNG FU PANDA 2 and PUSS IN BOOTS.
We mention this here at DTF because Guillermo Del Toro served as executive producer on both films.
Guillermo stayed true-to-form to his normal producer role – letting the director's create their own vision and supporting them in that process.  The directors of both films were very thankful for Guillermo's involvement.
Chris Miller, director of PUSS IN BOOTS, told the LA TIMES: "Guillermo was a gift to us…The film had been coming together in this great way, but we had hit that point where in a weird way we had taken it as far as we could. We needed someone to liberate us creatively and sort of shake the tree. He expanded the way we saw the film at the perfect time in the process. He's been just a gift for us."
Jennifer Yuh, director of KUNG FU PANDA 2, told Den of Geek: "Guillermo del Toro bolstered me and my mind. And told me to trust I had a good movie, and fight for it."
KFP2 and PUSS IN BOOTS will be competing against RANGO, and two international titles, CHICO & RITA and A CAT IN PARIS.
The Oscar awards will be handed out February 26th, and will be broadcast by ABC