At Home With Monsters: An Interview with LACMA'S curator Britt Salvesen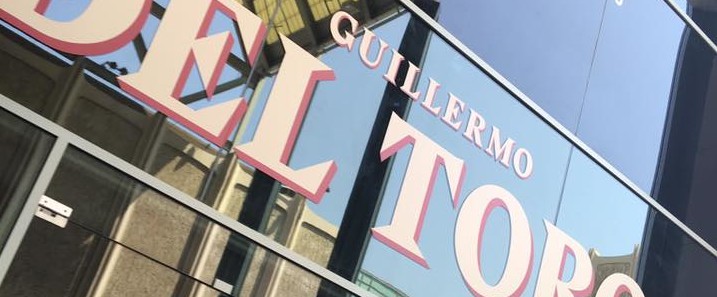 Ever since "Guillermo del Toro: At Home With Monsters" –the massive exhibit at Los Angeles County Museum of Art– was announced, fans have gone crazy about the opportunity to see, in the flesh, some of Guillermo del Toro's most valued works of art from his personal collection. In a similar fashion to the feeling of awe provoked by the publication of his journals in Cabinet of Curiosities (2013), cinephiles have been longing to walk into the labyrinthic mind of one of the finest moviemakers of our times. From August 1st to November 27th, the exhibit will be open to the public at LACMA, with at least two different tour stops to follow during 2017: Minneapolis Institute of Art and the Art Gallery of Ontario.
The three museums behind "At Home With Monsters" –LACMA, MiA, and AGO– are what is usually labeled "encyclopedic museums", which means they house collections from different times, subjects and countries. Therefore, working together with Guillermo del Toro for this exhibition made perfect sense: "Del Toro's thinking is also like that in that he draws from so many historical traditions and cultures, and different kinds of objects and histories. So it was a way for us to show a contemporary artist of our time who has got a range of reference that can encompass a whole museum", says Britt Salvesen, co-curator of the exhibit. Most of the displayed pieces come from del Toro's personal collection at Bleak House, but there is a portion for each venue that will be different. "He has selected objects from our collections to integrate with his own".
To lots of us, Bleak House is the embodiment of Guillermo del Toro's mind, and so we dream of walking through its doors and into a never ending collection of awesome. However, that pleasure is not at our hands, so LACMA is making an effort to showcase this collection in a fitting way. "We want to create a setting for the exhibition that at least has a hint, a flavor or sensibility of Bleak House", Salvesen adds. "We worked together to find a way to transform the museum, so that we can house his collection, but it also can't be exactly like his house, for practical purposes. But we found a good meeting point, because it definitely will bring a different kind of experience than the conventional art installation".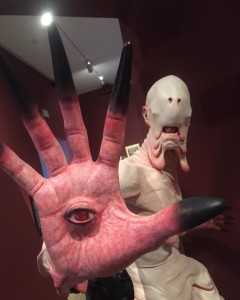 According to Britt Salvesen, the museum was partly inspired by the Crimson Peak exhibit at San Diego Comic-Con in planning the structure for "At Home With Monsters". "That gothic period that del Toro is so attached to is partly about architecture and space. Structurally we were aiming to build something that had a bit of a gothic feeling, and also a floorplan that has a bit of a clockwork and labyrinth feeling, so that you can have a core element that is an evocation of del Toro's study, with thematic libraries around it, like Bleak House does". As such, both symbols pervade the sections in which the collection is displayed: Childhood and innocence; Victoriana; Rain Room; Magic, Alchemy, and the Occult; Movies, Comics, and Pop Culture; Frankenstein and Horror; Freaks and Monsters; and Death and Afterlife.
Having a conventional structure and curatorship wouldn't be possible for this exhibit. Salvesen reflects on the chances of a linear organization for this collection: "That wasn't going to be the most satisfying way to do this, to start with Chronos and go through to Crimson. The innocence and death dichotomy are obvious bookends in a way, starting and ending points, but they are also key in all of his films. And then a theme like Frankenstein, because he's very attached to the novel and the James Whale film, but also for him Frankenstein means so much more about art, about the human condition, about doing something new and noble out of discarded materials. It was a way to take a culturally familiar image such as Frankenstein's monster and then explore how this particular artist continues to be inspired by it. That it's not a superficial thing for him, but that it is a philosophy in a way".
Following through with Guillermo del Toro's way to look at art and creation, LACMA has included in "At Home With Monsters" works from every walk of art. "Another reason we wanted to bring this exhibition to the museum is to respond to del Toro's conviction that there's no distinction between high and low in the way he thinks, and that he can equally take inspiration from horror comics as from William Blake's prints, and literature, and philosophy, and so on", says Salvesen. "When you bring in an artist as Del Toro who isn't thinking in conventional terms, it really brings our collection to life".
Not long ago, Gallery 1988 housed "In Service of Monsters", an art exhibit inspired by del Toro's works. Tributes displayed in this show ranged from prints to canvases, to sculptures to installations done by over a hundred artists from around the world. Some of the artwork was purchased by del Toro himself for Bleak House. "That's exactly the kind of material we're bringing in the exhibition", says Salvesen, referring to "In Service of Monsters". "I'm really amazed and gratified as I talk about our show with the artists in the L.A. community. We are so excited about the museum embracing this range of art that is usually seen in totally separate venues. I think it's a great way for LACMA to bring in new, different audiences, and for the museum's usual audience to see that there's these completely different communities of art being made here in Los Angeles and beyond".
This is not the first time LACMA has taken over a film industry-related exhibit. In the past few years, the likes of Tim Burton, Stanley Kubrick, and Mexican cinematographer Gabriel Figueroa have adorned the walls and spaces of this museum. It made sense for the "At Home With Monsters" tour to start here. Also, they were the closest museum to Bleak House. "You can imagine my first and second visits… I was overwhelmed! Then I had to think about how to make the selections with Guillermo for the museum and what would physically be able to travel without damage to other places". After all, Bleak House lent about 500 pieces for the exhibit, from regular sized books and trinkets to life-size sculptures of H.P. Lovecraft and Edgar Allan Poe.
As with past shows, the trick was finding a way to showcase the knots and bolts behind del Toro's creative process without actually showing the completed films. "We have to find other things and methods of showing how that film came to be, how it originated in the director's imagination, how visual inspirations were brought in, how the fabricators made the creatures and props and costumes, and so on". And while every curatorial job is a challenge, "At Home With Monsters" seems to be the one with more connections to the museum's collecting, since del Toro himself is such a collector.
"At Home With Monsters" has been a success beyond imagination. By August 31st, in just a month of being open to the public, the exhibition was headed for 50,000 visitors, and sold out signs have been popping up early on the LACMA box offices, even on weekdays. This project has been rewarding to those involved, Britt Salvesen states. "Guillermo is a super generous, intelligent guy. And even though he's obviously always busy with one and other projects, when we worked together focusing on this, he brought attention and good ideas, and fun! It's been really great".
Does she have a favorite piece of artwork, after working on this exhibit for so long? Even though there are so much that Salvesen couldn't pick one during our conversation, she seemed to have been very impressed by the aforementioned literary sculptures. "I think as an experience within the exhibition, the lifesize sculpture figures of H.P. Lovecraft, Edgar Allan Poe, and the Frankenstein creature are going to be really powerful and amazing. These are kind of Guillermo's friends that he lives with in his house. To share those with a big audience is very generous of him, and I think they will be sparking a lot of interest. In fact, people will come away with a good reading list because of his love of literature".
"Guillermo del Toro: At Home With Monsters" will be open to the public at LACMA until November 27th. After that it will travel to the Minneapolis Institute of Art, where it will be open from February 26th to May 21st, 2017, and the final stop for this leg of the tour will be the Art Gallery of Ontario, in Toronto, from September 30th, 2017 through January 7th, 2018. Guillermo del Toro has said on Twitter that possible next stops for the exhibit are Mexico City, Barcelona, Paris, and New York.