HELLBOY 3 Officially Dead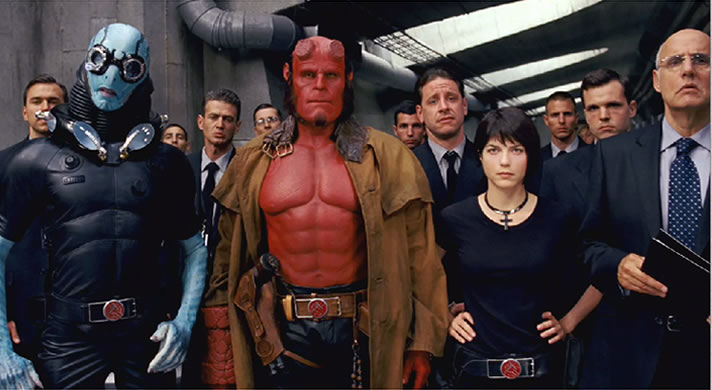 You can't blame the man for not trying.
Guillermo del Toro's last ditch effort to revive his popular HELLBOY franchise finally ended.  After reportedly gathering together the film's primary players – Ron Perlman and Mike Mignola – the group was unable to find a way to make it work.
And on February 21st, GDT called time of death:
Hellboy 3 Sorry to report: Spoke w all parties. Must report that 100% the sequel will not happen. And that is to be the final thing about it

— Guillermo del Toro (@RealGDT) February 21, 2017
This is a sad day for fans hoping for a miracle, but HELLBOY 3 had so much going against it – chief among them: a 66 year old star with lots of other gigs and a lukewarm target audience.
True, the films have been profitable – but not run-away hits.
That it got through two movies – really good movies at that – is a testament to the vision of GDT, Mike and Ron.  These films were underdogs from the beginning, and their legacy includes both a devoted cult following and prototype for being true to itself.
The making of the HELLBOY films is a great example of del Toro's fight to make his films "his way".  Among the studio suggestions that GDT received were a different star (Vin Diesel), a "Hellmobile", and an aversion to the word "Hell" ("Can we make him 'Heckboy'?).  The result was something that sidestepped the usual cookie-cutter studio drivel and instead became "high art action" that was fun and original.
Although we are sad to see the del Toro / Perlman HELLBOY franchise die – there is still hope for HELLBOY fans.  On Mike Mignola's Facebook page, he didn't rule out an eventual reboot:
Despite what some people are saying today–No Guillermo del Toro/ Ron Perlman Hellboy 3 DOES NOT mean there is no future for the Hellboy Franchise.

- Feb 21, 1:45pm, Mike Mignola, Facebook
Congrats to all involved in the first two HELLBOY films – they will live on gloriously in the film archives of Netflix, Amazon and others.