Is Guillermo's next film a B&W Mexican Wrestler Vampire Movie?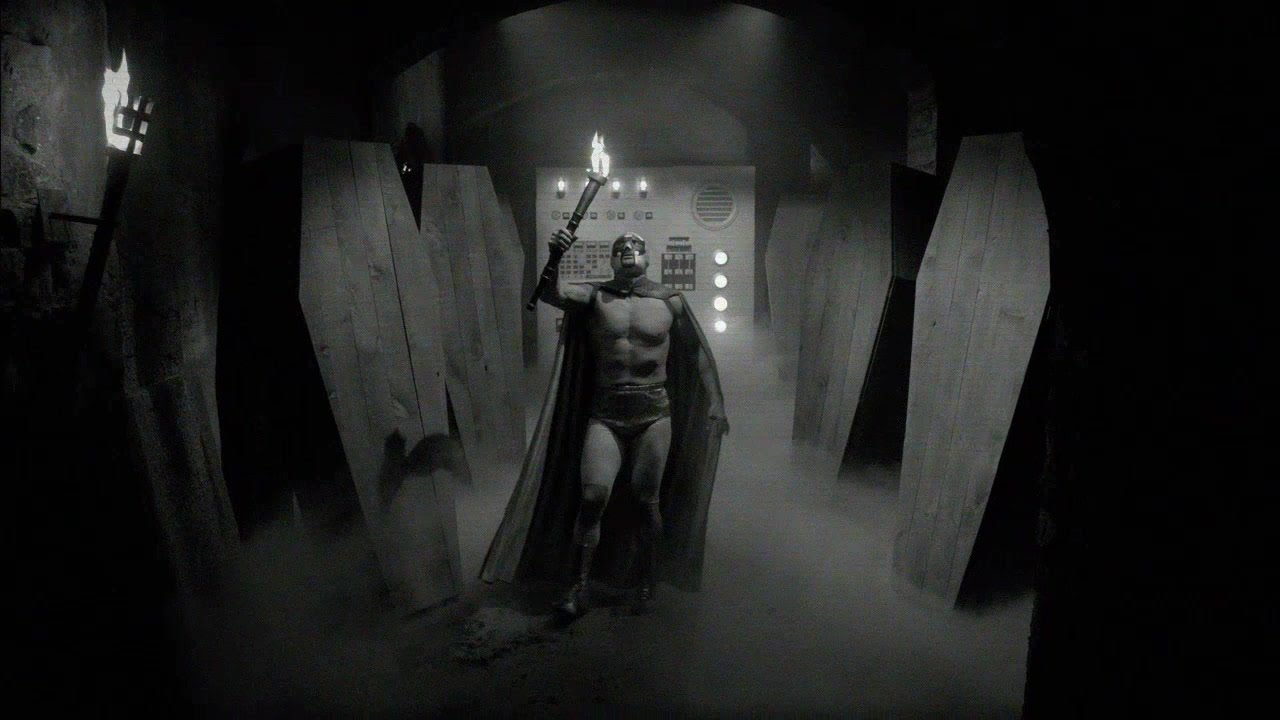 Updated October 12, 2015
This theory was DEBUNKED!
Tweet 2: My next project is NOT that movie. We shoot next year and it's a smaller film in English.

— Guillermo del Toro (@RealGDT) October 12, 2015
Is Guillermo bringing the Silver Angel to the big screen? According to The Guardian, one of Guillermo's pet projects is a low-budget black and white film about a "Mexican masked wrestler who discovers that all politicians are vampires." The project is called SILVA (or maybe PLATA), and apparently has been a project of his for years. We also know that before PACIFIC RIM 2 was given the greenlight (kind of), Guillermo wanted to squeeze in a small B&W film between May and June earlier this year. Here is a quote from a Hollywood Reporter article from March, 2015:
In spite of the ongoing violence, Del Toro vowed to return to Mexico at some point to film a passion project titled Plata, a wrestler-versus-vampires revenge story based on Del Toro's and Chuck Hogan's comic The Strain: The Silver Angel. "If I don't die of a heart attack first, I'm going to do it," he said, in reference to his unhealthy diet. "I've wanted to do it for 15 years. I owe it to myself."
Guillermo served as director for the "Silver Angel" black and white mini-film featured in Season 2, Episode 4 of THE STRAIN, (his FX horror series with Carlton Cuse).  Could this be "practice" for his next film?  We think so – and it is a good bet that he might choose this project to work on while the studios decide the fate of PACIFIC RIM 2:  
To answer all tweets re: PAC RIM 2: Budget ready. Awaiting script from John Spaihts. Then is up to the studios to give it a green light.

— Guillermo del Toro (@RealGDT) October 11, 2015
Now, if I may add some commentary – and this speculation is purely my own – I have to think that a tongue-in-cheek movie like this, a black-and-white Luchador tale with vampire politicians, could be an excellent vehicle for Guillermo to get in some political commentary.  After all, he has been outspoken about the declining state of his own country. Most recently, he told the Hollywood Reporter that drug violence has left Mexico in "social decay". He and the rest of the "Three Amigos" (Alejandro G. Inarritu and Alfonso Cuaron) stood arm-in-arm at the 2015 Oscars to support and encourage change in the Mexican government.
Today, Guillermo considers himself in exile from Mexico, as the criminals that kidnapped his father in 1998 are still at large, and has said he would not film in Mexico because of safety issues.
So for many reasons, not the least of which are his passion for old Mexican wrestling movies (which he has mentioned to us many times), this could be a fun, but deeply personal project.  We'll see…
But in the meantime, check out this behind-the scenes video from Guillermo's SILVER ANGEL short from Season 2 of THE STRAIN – if the film is anything like this, we are in for a lot of fun: