Guillermo del Toro "in talks" to direct FANTASTIC VOYAGE remake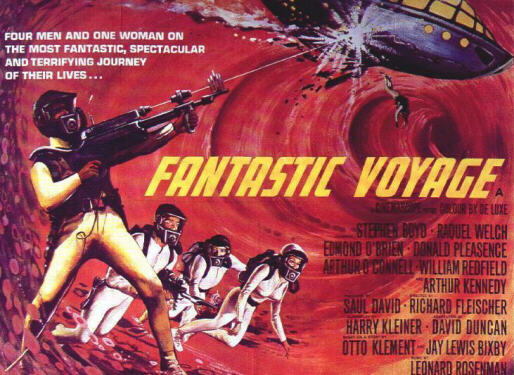 With the PACIFIC RIM sequel in limbo, Guillermo del Toro has his sights on another tent-pole project – this time with good friend James Cameron.
According to the Hollywood Reporter, 20th Century Fox and Cameron's Lightstorm Entertainment is looking to remake FANTASTIC VOYAGE, a 1966 sci-fi film about a team of scientists that shrink down to microscopic size and pilot a submarine through a human body.
The film would also reunite del Toro with David S. Goyer (BATMAN BEGINS), who wrote the screenplay for BLADE 2, and would executive produce the film.
del Toro and Cameron have been looking to work together for some time, most recently in their stalled AT THE MOUNTAINS OF MADNESS project with Universal in 2011.
Cameron's Lightstorm Entertainment has been a ground-breaking force in movie technology, having produced TERMINATOR 2: JUDGEMENT DAY (the T100), TITANIC (digital effects) and AVATAR (3D technology).  We would hope that the FANTASTIC VOYAGE film would fall in line, with 3D technology and digital effects for the film being a huge draw for audiences.
No date is set yet for the film's release.
To get an idea of what to expect, watch the trailer for the original film on YouTube below. FANTASTIC VOYAGE won Academy Awards for Art Direction and Special Effects.