Guillermo del Toro joins the voice cast of "Extraordinary Tales"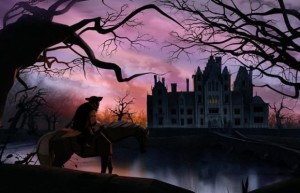 Guillermo del Toro has joined the voice cast of Raul Garcia's "Extraordinary Tales",an arthouse animated omnibus feature based on Edgar Allan Poe's novel.
The the unusual voice cast includes Christopher Lee, Julian Sands and fellow B-movie director,Roger Corman.
Modestly budgeted at  $2.5 million, "Tales comprises five segments retelling a Poe story. Each part boast a different animation style that reflects Poe's universe and is inspired by various artists."
"The segment called 'The Mask of the Red Death,' for instance, is inspired by Egon Schiele's paintings," Roalants told Variety.
Del Toro is lending his voice to "The Pit and the Pendulum," which mimics mid-19th century photography. The segment turns on a man who is being tortured during the reign of the Spanish Inquisition.
http://variety.com/2014/film/news/afm-del-toro-boards-extraordinary-toon-exclusive-1201349067/