GDT's CABINET OF CURIOSITIES Releases on 10/29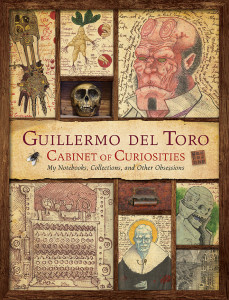 Hola!
GDT here with an announcement about the book *Guillermo del Toro: Cabinet of Curiosities*, which goes on sale October 29. Based on many interview sessions with Marc Zicree, the book is like a coffee chat with me. It's a glimpse into things that are really personal to me and how I create. It is filled with my personal notes and drawings from my private notebooks. In it, you'll see how my life, my home, my movies are all a single narrative.
I will also be releasing a very limited edition of my book, *Guillermo del Toro: Cabinet of Curiosities: Limited Edition*, which will be signed by me and numbered. It will be boxed in a cabinet, and include replicas of Professor Broom's rosary and the bone amulet from *Hellboy*, along with the *Cronos *scarab, a replica of a page from the Cronos device instruction manual, four cards reproducing artwork from *The Book of Crossroads* in *Pan's Labyrinth*, and four of my original art prints.
If you want more details or to pre-order your copy of the Regular and Limited Edition click here.