GDT News Roundup- THE STRAIN, PACIFIC RIM 2 and more
Lots of little things going on in del Toro land – so here is a quick summary for you:
A Very Del Toro Book Drive, June 19
The LACMA is holding a book drive this Sunday, and they are looking specifically for some of Guillermo's all-time favorites.  Copies of Mary Shelley's FRANKENSTEIN, Charles Dickens's BLEAK HOUSE, plus anything written by Edgar Allan Poe and H.P. Lovecraft will be accepted for inclusion in the upcoming exhibit, Guillermo del Toro: At Home with Monsters.
The first 500 donors will receive a complimentary general admission ticket to be used that same day.  Details can be found here.
Dark Horse announces Quinlan comic
One of the most popular characters from THE STRAIN is Mister Quinlan, the hybrid vampire hunter.  Dark Horse has announced a new comic devoted to his origin. Check out the cover art below.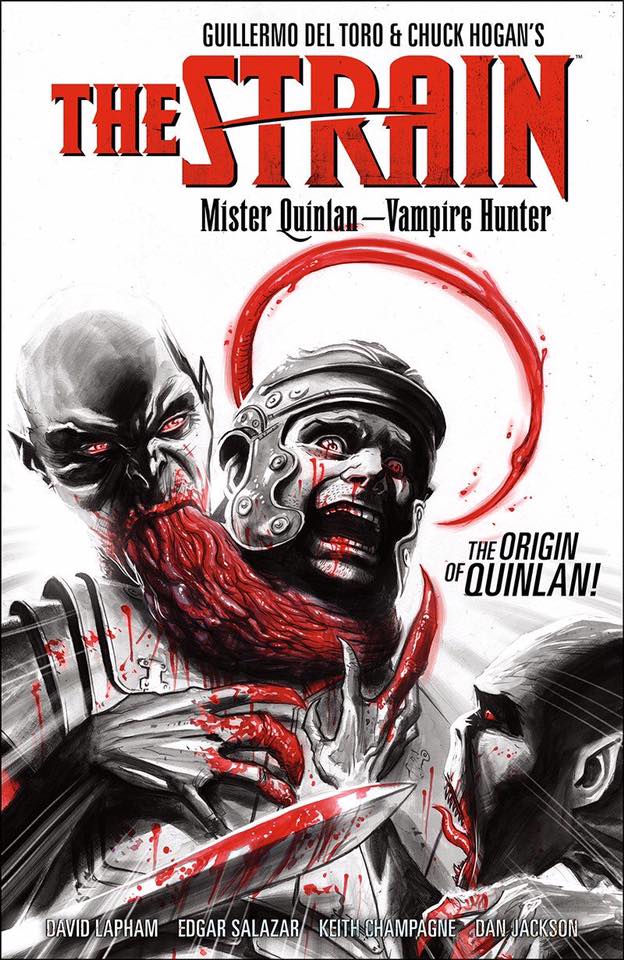 New THE STRAIN Season 3 Teaser
Season 3 premieres August 28th on FX. Get fired up with these new teasers, "Lady Liberty" and "23 Days"
 TROLLHUNTERS will star Ron Perlman, Kelsey Grammer
The Netflix / DreamWorks Animated series TROLLHUNTERS will reunite del Toro with one of his favorite actors, Ron Perlman, and adds the prestige of Emmy award winning actor Kelsey Grammer.
The animated series will star Anton Yeltsin as the Jim, a high school kid destined to fight the evil underground.  Perlman will voice a "sinister troll" named Bular, with Grammer voicing one of Jim's troll allies.
For more info, check out this interview with del Toro from Variety.
Amazon orders CARNIVAL ROW pilot
As reported in January of 2015, Amazon was developing Guillermo's long gestating project KILLER ON CARNIVAL ROW for TV.  The series, about a murder investigation in a world where fantasy and reality blurs, was originally sold to NEW LINE CINEMA as a feature film, and was written by PACIFIC RIM scribe Travis Beacham.
Now, Amazon has officially ordered the pilot, which is written by Rene Echevarria (The 4400), who also serves as showrunner.
John Boyega to star in PACIFIC RIM 2
Lastly, PACIFIC RIM 2 is moving forward, but with a new big-name cast member: John Boyega will join Steven DeKnight in the pushing the franchise forward, with del Toro serving as a producer.  No word yet on which cast members from the original film will return.