GDT and Partners Launch Production Studio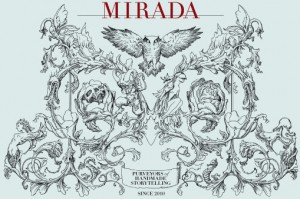 Could this be "WETA Out West"?  No, it will not be as large as WETA, Peter Jackson's New Zealand Production studio, but Guillermo Del Toro and his partners have launched MIRADA, a "transmedia" production studio in Marina Del Rey, California.
The hook for this new 25,000 square foot studio is that it is geared toward the "future of storytelling" in that it will go beyond working with "filmmakers", it will assist "storytellers" in a variety of mediums: film, web, animation, video games, etc..
Guillermo has championed this vision many times that the future of storytelling is changing with technology, and his new company is positioning itself to be a trailblazer. Says Del Toro:
We are creating a storytelling engine in the form of a company — an imaginarium, where we are free to explore the practical possibilities of transmedia without compartmentalizing our artistic process. Mirada will be an adaptive entity, constantly in transformation. We see a different model that looks beyond what the market is doing right now to where it will be in ten years.
Guillermo also told the Hollywood Reporter: "I firmly believe that if I don't take these steps as an individual and as a filmmaker, I'm going to be out of pace with what is needed."
According to LatinoReview.com, MIRADA is a "a state-of-the-art facility that houses design, animation, post and visual effects, an art department, a sound stage to facilitate traditional and virtual productions, and a full camera shop."  Del Toro believes that having all these facilities under one roof will help the creative process.  GDT told The Wrap:
Anytime you do a feature film, you have to start over," said del Toro. "You start to look for people that will help you conceptualize the concept. Do animatics and tests, and then you break the process in such a way that it becomes sort of inarticulate. You develop a concept over here, then you do production and your visual effects somewhere else. Ultimately, there are not many places that they can be familiar with your assets from the get-go, where [one team] creates them and helps you implement them during the shoot, and you can do the post-production under the same roof.
Guillermo has three partners in this venture: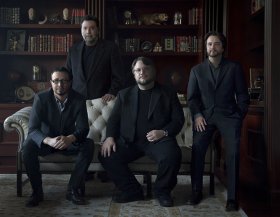 Guillermo Navarro: GDT's long-time collaborator and cinematographer.
Matthew Cullen and Javier Jimenez: co-founders of Motion Theory, a commercial design and production company.
And here is MIRADA'S management team:
Grady Hall, executive creative director
John Fragomeni, head of visual effects
Patrick Nugent, general manager
Mark Allen Kurtz, executive producer
So will this be GDT's WETA?
"We didn't have the Wellington model in mind when we were talking, but one of the great things about it was how close every facility was to each other," del Toro told Empire. "Our intention here is to be nimble and guided by strong, traditionally rooted storytelling principles. We will have all these pieces under one roof, and build a strong creative community here that will nurture future storytellers. Some of the feature projects I have going in the near future will hopefully go through Mirada, which means 'point of view.' One of the ideas for me was to create a company that could become a home for me to be able to work."