FX Taking THE STRAIN to SXSW Film Festival – Nap and Transform!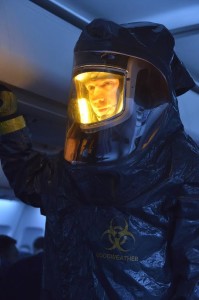 FX is promoting THE STRAIN at the South By SouthWest Festival by providing relief to the weary in special "rejuvination pods."
The Strain Transformation Station will provide participants with the chance to recover from "the strain" of SXSW with 20-minute power naps inside custom-built Rejuvenation Pods. The pods are equipped with tablets showcasing exclusive content from the new FX original series, THE STRAIN.
You can book reservations ahead of time on the www.thestrainpods.com mobile site.
The stations will be located in downtown Austin at 419 Congress Ave. at 5th Street, and will be operating from March 7 through March 10, from 12:00pm to 6:00pm.
In addition to the "transformation stations",  The Strain Vaccine (branded energy shots) will be distributed in and around the venue, plus novels and special-edition comic books will be available for takeaway.
Click here to learn more about THE STRAIN.