EXCLUSIVE: Preview of new GDT "STUDIES IN THE HORROR FILM" Book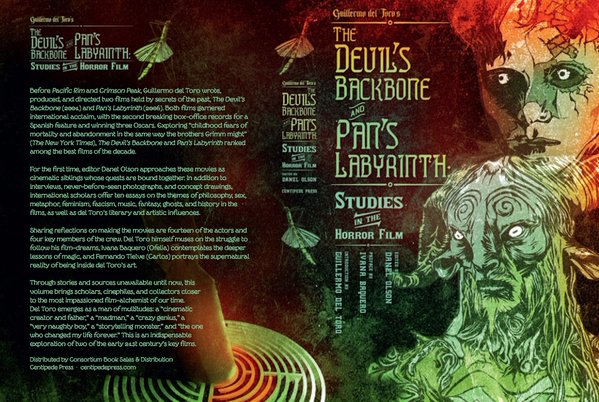 Hey GDT fans – DelToroFilms has a sneak peak of the new Guillermo del Toro critical anthology book from editor Danel Olson and Centipede Press.
This book offers a critical study of the two films, as written and told by scholars, cinephiles, collectors and cast and crew:
For the first time, editor Danel Olson approaches these movies as cinematic siblings whose quests are bound together, revealing how each questions and answers the other in over 400 lavish pages. In addition to interviews, never-before-seen photographs, and concept drawings, international scholars offer ten essays on the themes of philosophy, sex, metaphor, feminism, fascism, music, fantasy, ghosts, and history in the films, as well as del Toro's literary and artistic influences.

Sharing reflections on making the movies are fourteen of the actors and four key members of the crew. Del Toro himself muses on the struggle to follow his film-dreams, Ivana Baquero (Ofelia) contemplates the deeper lessons of magic, and Fernando Tielve (Carlos) portrays the supernatural reality of being inside del Toro's art.
DelToroFilms has scored a look inside at the Table of Contents – check out the link below to download and view the full list of contributors, plus a glimpse of the artwork that you can expect to see throughout the book.
(Click image below to view the PDF version with artwork)