DTF's Holiday CRONOS Contest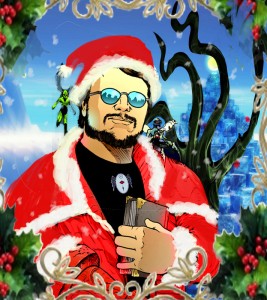 Would you like del Toro Claus to leave you a brand you Criterion Collection CRONOS DVD in your stocking or as one of your Holiday gifts? I bet you would…who wouldn't?
Guillermo has been generous enough to give us a couple of copies of his masterpiece.
Alrighty,party people….have you been naughty or nice? Well that doesn't matter…as long as you are witty and or creative.
All you have to do is come up with a Guillermo del Toro themed holiday greeting .
It can be poem,haiku, limerick…a holiday greeting card made out of bacon,a picture of you dressed as Santa wearing a Right Hand of Doom with a clever saying….you name it!
The only restriction here folks is that you have to live in the continental US of A.
(sorry you kiwis in New Zealand).  Reason being…shipping this bad boy internationally would cost more than the DVD itself.
So there you have it…the deadline for this is December 31st midnight (PST)
Be creative,but most of have FUN!  Post your entries on our message boards here! http://www.deltorofilms.com/wp/forum2/viewtopic.php?f=4&t=78