DelToroFilms.com announces first fan convention: DEL TORO CON 2014!!!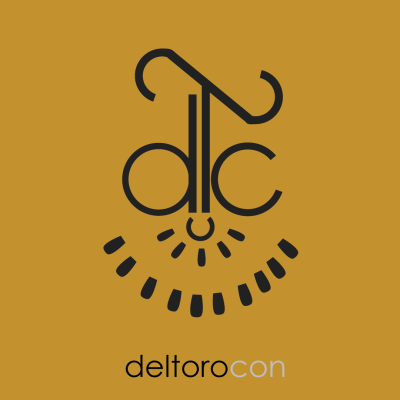 It took months in the planning and years in the making – a full-fledged convention for Guillermo del Toro fans…with an unusual twist:
DEL TORO CON 2014 will happen entirely online.
"GDT fans are a special niche group – but they are so loyal and devoted.  Ever since we started DelToroFilms.com 10 years ago, we've been wanting to do something special for them," says convention planner Parker Lyons.  "Logistically, we did not have the resources for a physical convention – but doing a virtual convention is totally within our grasp – and I think it can be ground-breaking."
The convention will maintain a central hub at http://www.deltorocon.com.  Feature content, blogs, podcasts, interviews, and fan art will be made available for visitors to enjoy and share through social media.  The dates of the convention are yet to be determined.
"We are going to sync up DEL TORO CON around the premiere of THE STRAIN on FX," says Lyons.  "As soon as FX knows the date, so do we."
The idea would be to close a three day fanfest in coordination with the GDT-directed series pilot.
"A perfect way to end it," Lyons says.
The virtual convention is designed to work a lot like a physical convention, right down to special interest panels, art exhibitions and cosplay.  Fans will be encouraged to contribute content and share pictures with each other on Facebook, Twitter, Instagram and other social media channels – all tied together with the #deltorocon hashtag and broadcast on the website.
And what about the man himself, Guillermo del Toro?
"He will be involved," says Lyons.  "We just need to work out the details."
Also scheduled to participate are GDT favorite Doug Jones and Jorge Gutierrez, who is directing the upcoming Fox Animation film, THE BOOK OF LIFE (which is produced by Del Toro).  Other popular artists familiar to GDT fans will be participating as well.
Tentatively, the convention will likely occur around end of June, or the beginning of July.  Convention "attendees" are encouraged to register online.  The cost is free, and the registration will allow attendees to enter discussions and comments during convention days. In addition, it will make them eligible for special prize give-a-ways.
"It should be exciting, interactive and fun," says Lyons.
And it is a long time coming for devoted fans.