Congratulations and Thank You – A Letter of Love to Golden Globe winner Guillermo del Toro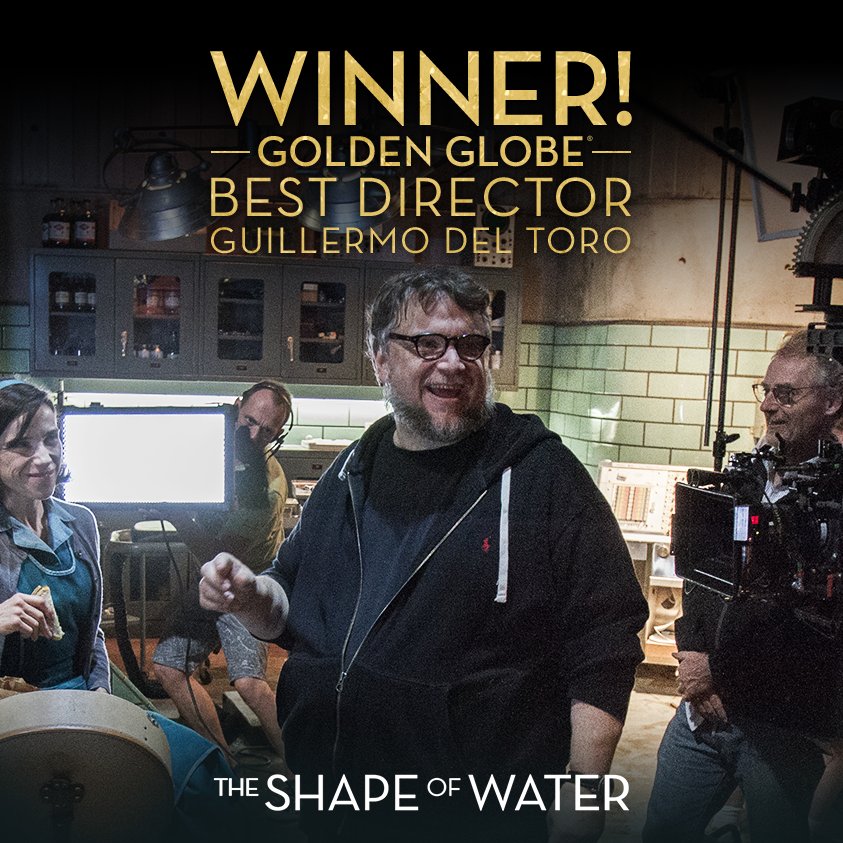 Dear Guillermo,
I started to write a simple story on our little fan site, DelToroFilms.com, giving the details on your well-deserved recognition as BEST DIRECTOR at the 2018 Golden Globes for The Shape of Water, but I felt like such an honor required more than just a few details and a YouTube link.  After having watched your lovely acceptance speech, I was moved to write something that was personal and heart-felt.
I have had the unique privilege to be an active observer of your incredible career since 2004, when our site hosted a small band of admirers leftover from the defunct Sony Hellboy message boards.  Back then, it was your warm personality and willingness to talk at length online about your films that engaged us most. At that time your IMDB page was only four movies deep.  This was before social media, and it was wonderful that you not only endorsed our little part of cyberspace, but you participated in it – answering our questions and sharing your views on cinema, artistry and life. I thought it was the beginning of an interesting little cyber-community.  It turned out to be so much more.
Our site is still just a small corner in cyberspace, but each day, through either our social media accounts or the scores of web articles we research (or sometimes just the people we randomly meet), we see the love and adoration the people have for you as both an artist and a person.
That love goes beyond the typical level of fandom, in my opinion.  The love does not stem from the superficial joy of a Hellboy movie or a movie about giant monsters and robots.  It comes from two things:  

1) the passion, skill and craftsmanship that lives in your art, and
2) the love and warmth that you have for others
It is not enough to just say Congratulations when your work has meant so much to so many. Instead, let us, your fans, say Thank You.
Thank you for your art. It comforts and inspires so many.
Thank you for teaching us about cinema and film, we have learned so much from you.
Thank you for teaching us about the language of visual story telling, and the great masters who have inspired you.
Thank you for your generosity and staying late and signing as many autographs as possible, and giving each person their moment.
Thank you for the hugs and words of encouragement to aspiring artists and filmmakers.
Thank you for your willingness to share your creative process with us – from your notebooks to your commentaries to your lectures.
Thank you for enriching our lives. You have touched so many in a positive way, you don't even know. As a fan-owned site, words of appreciation often come to us, and often there is no way to fully convey the depth of those emails and social media posts because they are numerous.
Lastly, Thank you for bringing your imagination to our world for us to enjoy and share.  At times, I will randomly encounter a "del Toro fan", and at once there is an instant kinship.  The types of people that gravitate your way are a reflection of you. They are thoughtful, kind, funny and fascinated by art and stories.  It has been our pleasure and a privilege to serve this community of bright, wonderful people.
So enjoy your moment, you deserve it.  There are so many people out there that were thrilled to see your hard work and talent recognized.
And on behalf of them Congratulations…and Thank You.

#FriendshipGoals Salma Hayek y Guillermo del Toro. pic.twitter.com/DlFV57T1er

— Guanajuato Film Fest (@giffmx) January 8, 2018
After the globes- celebration pic.twitter.com/wqKVVu7ivA

— Guillermo del Toro (@RealGDT) January 8, 2018